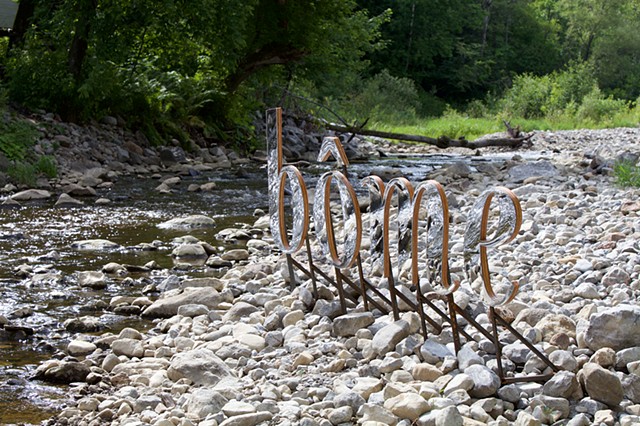 Née à Montréal, Héloïse Audy a complété une maîtrise en Studio Arts (fibre) à l'Université Concordia en 2009. Son processus créatif se fonde sur des rencontres, fortuites ou planifiées, avec des personnes issues de communautés diverses. Ces échanges, points de départ de ses projets, s'y incarnent par le son, l'image ou l'écriture. Filigranes, miniatures ou monuments, au-delà du voir, les mots convoquent le toucher. Des matériaux éphémères (fil, papier, ruban, fil métallique) tiennent lieu de support aux mots, conférant à ses œuvres une délicatesse qui évoque le caractère faillible du langage. Ses oeuvres ont été présentées dans plusieurs provinces canadiennes, en Argentine et en Norvège.
« Born in Montreal, Héloïse Audy completed a master's degree in Studio Arts (fiber) at Concordia University in 2009. Her creative process is based on encounters, fortuitous or planned, with people from diverse communities. These exchanges, which are starting points for her different projects, are embodied in sound, image or writing. Transcending mere vision, words summon the sense of touch, through watermarks, miniatures or monuments. Transient materials such as wire, paper, ribbon or metallic thread, act as supports for words, giving her works a delicacy that evokes the fallible character of language. Her work has been presented in several Canadian provinces, Argentina and Norway.
« Il y a un plaisir obscur qui me pousse à les disséquer, à les isoler cruellement l'un de l'autre, à les manipuler, puis à les dénuder de leur sens en les replaçant autrement, créant de nouvelles hiérarchies. Toujours, je veux en voir jaillir une texture, un rythme. Leur faire prendre vie autrement, plus près du toucher que des yeux. Les mots. Glanés au fil de mes rencontres bien réelles ou extirpés d'un texte aimé d'un coup de lame, je tente de leur trouver une autre échelle, un contexte juste pour les tisser délicatement ou les déposer au sol, dans toute leur pesanteur. S'échappant de la logique rationnelle du langage, ces mots épars retrouvent une force d'action d'origine, fugueuse et ambiguë. »
A strange pleasure drives me to dissect them, to isolate them cruelly from one another, to manipulate and strip them of their meaning by placing them differently, creating new hierarchies. I want to see a texture, a rhythm appear. Make them come to life in another way, closer to touching than to seeing. Words. Gathered in the course of encounters or rooted out from a chosen text with the blow of a blade, I try to give them the appropriate scale, the right context, either weaving them delicately or laying them to the ground with all their weight. Breaking away from the rational logic of language, these scattered words reveal a pristine, fugitive and ambiguous force of action. »
Héloïse Audy parle surtout français. She sometimes speaks English. Habla también español. Elle baragouine le portugais et le néerlandais.